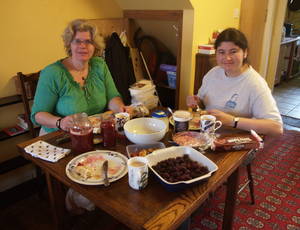 Our friend Selma from Australia arrived last Saturday morning. She only had a day and a half here, so we whisked her off immediately, before jet lag could set in. We cycled up the Thames to Medley Manor Farm, where we picked blackberries and raspberries and strawberries and broad beans, and then had lunch in the Perch Inn.
Then we cycled to Jericho for coffee, after which Camilla and Selma went on while I tried to find a gamelan klenengan.
We had way too many berries to eat, especially since we were heading to a conference in Birmingham on Sunday evening, so I took some to my sister and Camilla and I worked into the small hours of the morning making jam out of the rest.
I foolishly forgot to bring my camera on this excursion, so the only photo I have is of us scoffing fresh jam the next morning.
0 Comments »
No comments yet.
Leave a comment